As Seen on the Food Network's "Cheat Day USA", we're a family-owned and -operated business with two locations in Boston and Malden.
Crazy Good Kitchen is a family business, first and foremost. The owner, Tony, has a background as a butcher in his native Brazil and uses the knowledge and values he learned in that position to bring his passion for quality products and flavorful, comforting burgers to the diner. In fact, Tony brough his whole family into the business to share a passion for quality ingredients and delicious food with the world! In the kitchen, Tony's son-in-law and marketing-driven daughter, Bernardo and Pillar, tag-team to hand-craft the crave-worthy burger creations that are truly so crazy good on the menu you've come to know and love!
Tony's son, Arthur, dreams up tasty dessert recipes, such as the ever-popular towering milkshakes and refreshing açai bowls! Last but not least, Tony's wife, Selma, helps with day-to-day business management and strives to create an enjoyable and fun work experience for all employees!
It's all in the family here at Crazy Good Kitchen! Let our family take care of yours and stop by with the kids or friends today. Please say hello on your next visit to one of our diner locations on Newbury or in Malden!
About Our Burger Restaurant
Our founder, Tony, spent many years working in a butcher shop in Brazil, where he learned the value of top quality cuts. Because of his background and our collective passion for delicious meals, we're committed to providing a top-quality options to our customers ever time they visit. Our beef is ground in-house each day to ensure top-quality patties that we're proud to put in our burgers and our chicken tenders are prepared with buttermilk marinade and seasoned breading that's fried to perfection. Whether we're feeding our guests or our own family, our commitment to quality, flavor, and a great experience set us apart from other burger joints around. Learn more about our burgers, browse the menus for our two locations and read about our catering services by browsing our website. Have a question about our food, our services, or our team? Reach out to us to speak to one of our friendly and helpful team members.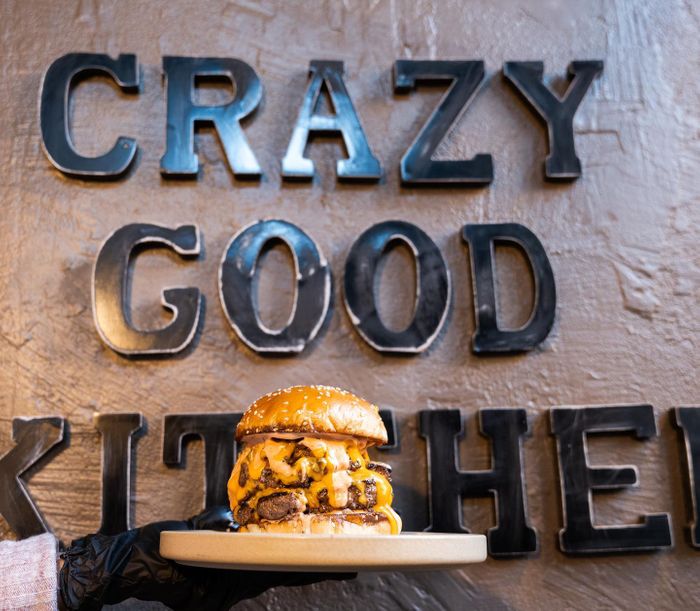 Why Choose Crazy Good Kitchen
When you choose Crazy Good Kitchen for your next burger, shake, or chicken meal, you can expect:
High-Quality Ingredients
A Great Atmosphere
Delicious Food and Drinks
Crave-Worthy Burgers
Crispy, Mouthwater Fried Chicken
Delectable Shakes
And So Much More!
Visit One of Our Locations Today!
Visit one of our locations today to experience the welcoming atmosphere, the comfort of delicious food, and the delight of spending time with friends and family. At Crazy Good Kitchen, we're dedicated to making your experience Crazy Good!